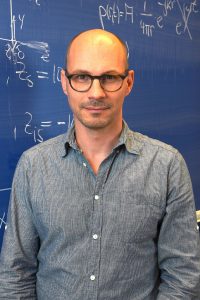 Contact Details
About
Jens Ahrens has been an Associate Professor and head of the Audio Technology Group within the Division of Applied Acoustics at Chalmers since 2016. He received his Diplom (equivalent to a M.Sc.) in Electrical Engineering/Sound Engineering jointly from Graz University of Technology and the University of Music and Dramatic Arts, Graz, Austria, in 2005. Jens completed his Doctoral Degree (Dr.-Ing.) at the Technische Universität Berlin, Germany, in 2010. From 2006 to 2011, he was a member of the Audio Technology Group at Deutsche Telekom Laboratories / TU Berlin where he worked on the topic of sound field synthesis. From 2011 to 2013, Jens was a Postdoctoral Researcher at Microsoft Research in Redmond, Washington, USA. Thereafter, he re-joined the Quality and Usability Lab at the Technische Universität Berlin. In the fall and winter terms of 2015/16, he was a Visiting Scholar at the Center for Computer Research in Music and Acoustics (CCRMA) at Stanford University, California, USA.
Find more information here.
International Roles Since 2016
| | |
| --- | --- |
| 2022 | Visiting Professor, Reality Labs Research, Meta, USA |
| 2021 | Visiting Professor, International Audio Laboratories, Friedrich-Alexander-Universität Erlangen-Nuremberg, Germany |
| 2020 – 2022 | Guest Editor of the EURASIP Journal on Audio, Speech, and Music Processing |
| 2019 – | Associate Editor of the IEEE Signal Processing Letters |
| 2018 – 2020 | Visiting Professor, Centre for Audio and Psychoacoustic Engineering, University of Huddersfield, UK |
Research
Physical theory of sound field synthesis
Signal processing for sound field synthesis
Room acoustics and artificial reverberation
Psychoacoustics of spatial audio
Modeling of head-related transfer functions for headphone reproduction
Object-oriented representation of spatial audio scenes
Interaction with spatial audio scenes
Signal processing for microphone arrays
See also the pages of the Audio Technology Group.
Current Research Projects
Teaching
Publications